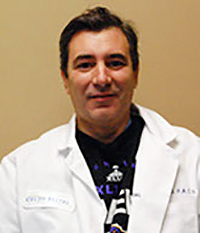 Colorectal Surgeon, Dr. Vincent Cifello, has been practicing medicine for more than 15 years. Head of Colon & Rectal Surgery at Baltimore Washington Medical Center, Dr. Cifello was named a Top Doc of Colorectal Surgery in 2013 by Baltimore Magazine.
Dr. Cifello graduated from the University of Pennsylvania with a BS in BA Biochemistry. He later received his medical degree from Columbia University Medical School, interned and performed his residency in General Surgery at St. Luke's-Roosevelt Hospital Center, and completed a fellowship in Colon and Rectal Surgery at UMDNJ Robert Wood Johnson.
Dr. Cifello is double-boarded in both general surgery and colorectal surgery; Board Certified in General Surgery since 1999 and in Colon and Rectal Surgery since 2000.